The Amsterdam Time Machine is taking another step forward towards its ambition to make it possible for anyone to virtually explore the city of Amsterdam as it developed over the past 750 years. To make this spatio-temporal exploration of historical Amsterdam possible, all digital data about the history of the city and its inhabitants need to be connected and linked to historical maps and 3D models in a dedicated infrastructure. Since 2017, ATM has taken on this challenge together with its growing consortium of partners from the fields of research, cultural heritage, government and creative industries, coordinated by Julia Noordegraaf and the researchers and programmers of the Creative Amsterdam research program and lab.  
Currently the ATM consortium is involved in a pilot 'proof of concept' project about 'Living with water in Amsterdam' (with ARCAM, Waternet, the Municipality, AdamNet and AUAS), in preparation for the opening of an exhibition on this topic at ARCAM on 8 July 2022. Furthermore, ATM together with the Municipality is planning a contribution to the celebration of Amsterdam 750 years in 2025, by testing the potential of a historical 'digital twin' of the city for present-day questions of living solutions in Amsterdam Zuid-Oost. And more opportunities are likely to develop from collaborations with the creative sector, such as in the field of serious gaming. 
To manage the partnerships, projects, and opportunities for future applications that are emerging from these developments, ATM has received funding from the UvA board to hire a full time project manager, who will manage relations with current and prospective partners and contribute to ATM's fundraising efforts for the development of the Time Machine's infrastructure and research.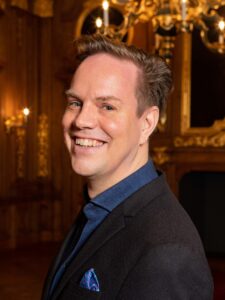 Starting from June 2022, ATM will welcome in this role Boudewijn Koopmans. Boudewijn (here in a photo by Vera Bos) studied at the Amsterdam Academy of Banking and Finance and obtained a Master's degree in Art and Cultural Studies from the Open University. After starting his career in the business sector (at KPN, for an internet company, and Air Miles, among others), in 2008 he switched to the museum sector and worked at the Cobra Museum, the Mauritshuis and the National Maritime Museum, where he was responsible for fundraising, relationship management, and cooperation with business and social organisations. A number of successful partnerships (including with NN Group, aimed at reaching new audiences) were awarded a Sponsor Ring.  
We wish Boudewijn all success in his role at ATM!