The Amsterdam Time Machine consists of multiple sub projects, that aim to adhere to the principles of linked open data (LOD). The idea behind linked open data is that data is always linked to other data, to make a semantic network of data. Data should be accessible through uniform resource identifiers (URIs), to ensure that the data object is always findable through this link. The Amsterdam Time Machine  unlocks previously inaccessible data to make it into coherent data sets. Next to that, pre-existing data bases are used and linked to information from other data sets.
Amsterdam Time Machine Datasets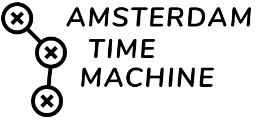 The Amsterdam Time Machine offers six tiles of historical maps of Amsterdam. Tile layers are the underlying maps in most map applications. Importing a tile layer in a Leaflet application is done in one line of code. Tiles are also easily imported in geojson.io (Meta > Add map layer, paste the tile layer url and give it a name) and QGIS (see how).
Datasets and Tools of Partners and Public Organizations

The City of Amsterdam has made dozens of interactive maps publicly available and interactive. In these maps, data about the city is integrated on the map grid.   These data is for example about property values, soil quality, zoning plans, but there are also various historical data sets. Examples of these data sets are georeferenced corridors and slums and cultural-historical values of the city. They also built a 3D "digital twin" of the city, available on 3d.amsterdam.

HisGIS is a digital package for the processing of spatial information. It relies on digitized old Dutch cadastre from 1832. It allows combining chronological and thematic map layers in various ways. Includes maps of Frisland, Groningen, Drenthe, Overijssel, Utrecht, part of Noord-Brabant, the municipalities of Amsterdam, Rotterdam, Delft, Leiden and the municipality of Sittard-Geleen. See the vectorized 1832 and 1860 Amsterdam maps here.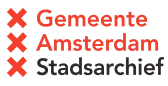 The City of Amsterdam Archives have a lot publicly available historical data about the city. Next to the physical archives, they have a digitized collection of photographs.  

AdamLink is a project of AdamNet. Adamlink functions as a hub in which various Amsterdam collections are connected through linked open data. AdamLink adds URIs to concepts and objects, such as disappeared streets. The reference data about streets, neighbourhoods, persons and buildings is available and searcheable with SPARQL.

The Golden Agents project aims to create a scientific knowledge infrastructure that supports humanities scholars in all phases of their work on data curation and enrichment. It will connect seamlessly to the national infrastructure as built by CLARIAH.